Fortnite
"Cómo conseguir una novia de Fortnite": las 5 preguntas más absurdas jugadores de Fortnite google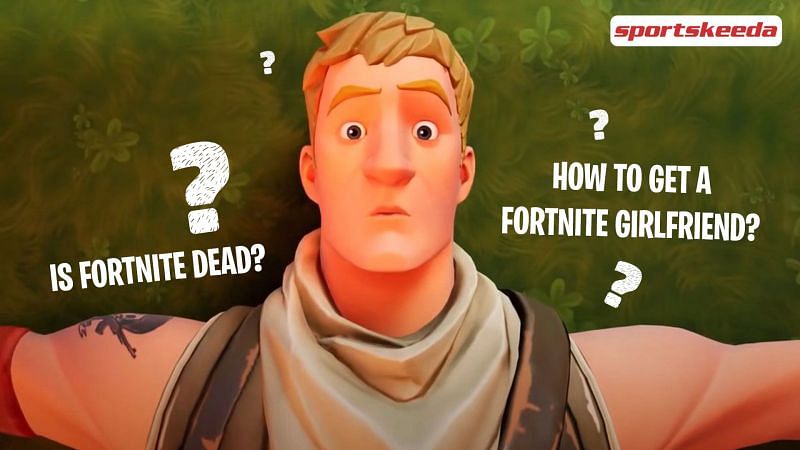 Fortnite ha existido por un tiempo, y es obvio que los recién llegados tendrán algunas preguntas candentes sobre el juego, la mecánica y las historias. Sin embargo, de vez en cuando, la comunidad hace algunas preguntas realmente absurdas y extrañas de la nada.
What is Fortnite?

— iFireMonkey (@iFireMonkey) June 27, 2021
Si bien la mayoría se puede responder con lógica y razonamiento, hay algunas que han evolucionado para convertirse en "preguntas troll" en lugar de preguntas reales que los jugadores pueden estar haciendo.
No obstante, este artículo tratará de abordar las preguntas más frecuentes y aquellas que son absolutamente extravagantes por naturaleza. Dicho esto, estos son los bucles de tiempo de "preguntas y respuestas".
Preguntas sobre Fortnite que son las más solicitadas
1) ¿Fortnite está muerto?
Esta es quizás la pregunta más buscada en Google por jugadores, fanáticos y escépticos de Fortnite por igual. De vez en cuando, las tendencias de las preguntas en Google, luego de debates en las redes sociales, o eventos controvertidos dentro de la comunidad, como ese momento en que Cody "Clix" Conrod recibió una advertencia por realizar partidas de apuestas .
Para algunos, Fortnite siempre será un "Juego muerto + Ratio", mientras que para otros, el juego se ha convertido en un escape de la realidad y probablemente seguirá siéndolo en los próximos años. Pero para responder a la pregunta (una vez más), "¿Fortnite está muerto?" según las métricas, la respuesta es no.
Epic confirmed some details in court about their business and Fortnite pulls 80.4 MILLION MONTHLY USERS

"Dead game" btw pic.twitter.com/QQ4SDv6Psu

— Justin (@ImTheRedMenace) May 3, 2021
2) ¿Cómo sudar en Fortnite?
Esta es una pregunta compleja, pero a menudo se mira desde la perspectiva incorrecta . Ser un jugador sudoroso no se trata solo de construir en exceso, sino de ser muy agresivo y empujar mientras construye, incluso cuando no es necesario.
I mean what do you expect them to do? Isn't the whole point of the game to kill everyone?

— A Vikings Fan (@dily_dillpickel) March 1, 2019
Sin embargo, para responder a la antigua pregunta, "¿Cómo ser un sudor en Fortnite?" todo lo que los jugadores deben hacer es ser extremadamente buenos construyendo y superando a los oponentes durante las peleas de caja.
Si bien algunos pueden llamarlo "ser extra", al final del día, es un juego de batalla real, y el objetivo es ganar por cualquier medio necesario que esté dentro de los límites legales del juego.
3) ¿Cómo conseguir una novia de Fortnite?
Por ridículo que parezca, hace unas horas que esta pregunta fue tendencia en Google, y nadie sabe por qué. Independientemente, esta es, con mucho, una de las preguntas más absurdas para adornar las búsquedas de Google de Fortnite.
Sin embargo, con todo lo dicho, hay una respuesta a la pregunta, "Cómo conseguir una novia Fornite", que es: Error 404 no encontrado, siguiente pregunta, por favor.
How to get a girlfriend:
Act cringy ✅
Have a full fortnite fit ✅
Look good ❌
Have 6 pack ❌
Have a really bad lisp ✅

Is this correct ladies??? pic.twitter.com/48H2PWW2Hg

— ͏ (@CaltSZN) June 20, 2021
4) ¿Qué es Fortnite?
Mientras que la pregunta, "¿Qué es Fortnite?" es una de las preguntas más frecuentes relacionadas con el juego, la respuesta es bastante sencilla. En esencia, es un juego de batalla real en el que los jugadores sobreviven hasta el final por cualquier medio necesario.
Ahora, a pesar de que la pregunta es de naturaleza genérica, el destacado filtrador de Fortnite ShiinaBR provocó una oleada de respuestas creativas de los fanáticos en Twitter después de publicar la pregunta hace un tiempo y hacer que se vuelva viral una vez más. Aquí hay algunas respuestas de los fanáticos.
what about giant 7 ft tall bananas

— speedy (@speedy89392217) June 28, 2021
5) ¿Cuándo terminará Fortnite?
Esta es una buena pregunta en general. Ahora, aunque no hay una respuesta definitiva a la pregunta, en un video reciente de Instagram, Donald Mustard, director creativo de Epic Games, reveló que la historia de Fortnite continuaría durante los próximos años.
 

View this post on Instagram

 

Aunque la respuesta fue ambigua y no se proporcionó una línea de tiempo específica, dado que cada "Capítulo" dura más de dos años, la historia en sí podría durar una década en total, mientras que el juego podría abarcar más tiempo. Basta decir que Fortnite existirá durante mucho tiempo