Fortnite
Fugas de la temporada 7 de Fortnite: granada Beehive, estadísticas de Cowinator y secuestro de Coral Castle confirmados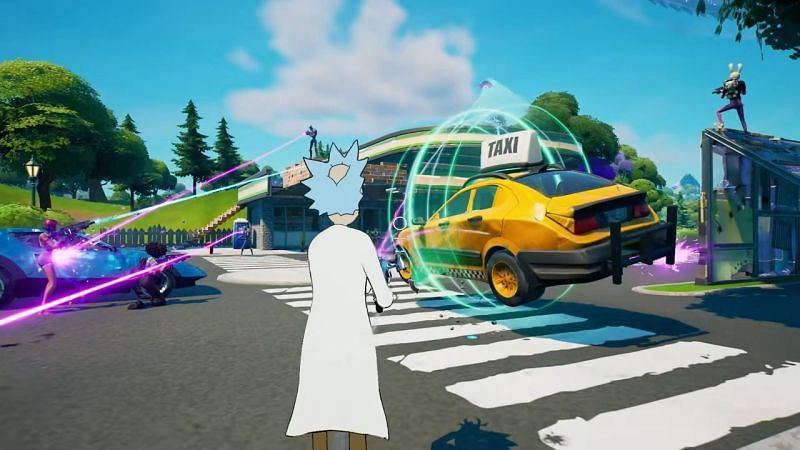 Si bien la actualización de Fortnite 17.20 puede haberse retrasado, un par de filtraciones han logrado pasar por las grietas y pintar una imagen oscura de los próximos días para un cierto PDI en el juego.
Además, parece que Epic Games había estado trabajando en algunas armas extrañas mucho antes de que se pensara en el tema alienígena. Lamentablemente, aunque el arma no llegará al juego, siempre es bueno saber que los desarrolladores son de primera categoría en lo que respecta a la creatividad.
Dicho esto, es hora de levitar hacia adelante y ver algunas armas nuevas y filtraciones de PDI para la temporada 7 de Fortnite.
You can basically fly by double jumping in the low gravity zone in Holly Hatchery! pic.twitter.com/2OcLjao10x

— StreakyFly – Fortnite News (@StreakyFly) July 6, 2021
Las filtraciones de la temporada 7 de Fortnite confirman el secuestro de Coral Castle
1) Granada de colmena
A Epic Games le encanta ser respetuoso con el medio ambiente, por lo que la idea de un grado único estaba en proceso, pero nunca se concretó en el juego. Según HYPEX, se estaba desarrollando una granada Beehive, pero el artículo finalmente se desechó.
El artículo habría actuado como una granada normal cuando se lanzó y, una vez activado, generaría abejas durante 12 segundos, lo que reduciría lentamente el HP de un jugador.
Además de la granada, también se desechó un consumible de miel. Por extraño que parezca este elemento, hubiera sido bastante divertido y caótico verlo en el juego. Quizás en el futuro, los desarrolladores puedan volver a considerar esta idea.
Fun Fact: Epic were planning to make a Beehive Grenade back in 2018-2019 and a Honey Consumable back in 2019-2020 but both were scrapped.. The Beehive Grenade would spawn a bees swarm for 12 seconds and they tick HP every second!

What do y'all think about this?

— HYPEX (@HYPEX) July 10, 2021
2) Cowinator
Nadie sabe por qué el arma se llama Cowinator, pero ciertamente llegará pronto al juego. Como se mostró por primera vez en el tráiler de la temporada 7 de Fortnite, el arma es básicamente una pistola de gravedad portátil, que es capaz de levantar objetos y lanzarlos hacia los enemigos.
HYPEX se apoderó de algunas estadísticas para el arma, y ​​aunque pueden no ser definitivas, son bastante intrigantes. Según los datos, el arma se demorará mientras se carga y deberá recargarse después de algunos usos.
Builds Damage (also multiplied by object's resource type):

– Small Objects: 100
– Medium Objects: 200
– Large Objects: 300

— HYPEX (@HYPEX) July 10, 2021
Además de las características mencionadas anteriormente, la producción de daños se basará en el tamaño del objeto y la composición del material. En esencia, lanzar un coche a un oponente causará un daño masivo; sin embargo, como siempre, las estadísticas podrían cambiar para adaptarse mejor al juego antes de que el arma entre en funcionamiento en el juego.
3) Secuestro de Coral Castle confirmado
Según el filtrador de Fortnite, NearLeaks, la nave nodriza secuestrará una gran parte del Castillo de Coral. A juzgar por su tamaño, es probable que el POI también se drene de agua cuando se extraiga un trozo de tierra.
Si bien los fanáticos esperan un mini evento en el juego, al igual que el PDI de Mothership, aún está por verse si Epic Games cumplirá con las esperanzas y los sueños de la base de jugadores. Según la información actual disponible, el " evento del Castillo de Coral " debería tener lugar el 13 o el 20 de julio.
im guessing theres gonna be like a mini event and theres still some encrypted stuff 🙂

— johnny_boi 🛸 (@rux_boi) July 10, 2021