New Fortnite 4.00 Update Today Patch Notes – 30th August 2023
Epic Games has released a new patch update, 4.00. Here are the patch notes for the latest downloadable release.
Last Friday, Epic released a new season of Fortnite; chapter 4 season 4. If leaks are correct, this will be the penultimate season of chapter 4 with Epic Games sent to release season 5 which will last only a month.
The release of the new season saw numerous bugs and glitches introduced into the game, something we've become used to over the past few releases.
With new additions to the game, some of them will likely have some bugs and glitches that obviously aren't intended.
One example is the Rocket Ram. The new item allowed players to send vehicles flying into the sky to allow an easy way to get around the map.
The glitch can be seen in the embedded tweet below.
Fortnite has now NERFED the Rocket Ram for the following glitch.. Thoughts? #Fortnite

Clip: @M4ster_ADM pic.twitter.com/ZaB12w5kT0

— Happy Power (@HappyPower) August 28, 2023
There have also been issues with the inconsistency in the amount of damage the Rocket Ram will deal with direct hits. However, to combat this, Epic has buffed the item to deal 50 player damage instead of 25.
The above was a hotfix that didn't require a new downloadable update. Howver, Epic Games have released a new Fortnite update today, 4.00, and players are wondering if there's any new content.
Fortnite 4.00 Update Patch Notes (08/30/23)
Just under an hour ago, Epic released the 4.00 Fortnite update which they announced on the official Fortnite status Twitter account.
The 4.00 Fortnite update has been released on the PC, PlayStation 4, PlayStation 5, Xbox One, Xbox Series X|S, and Android.
As expected, there is no new content with the release and the update only addresses stability issues players have been experiencing since the start of the new season.
You can check out the official tweet below.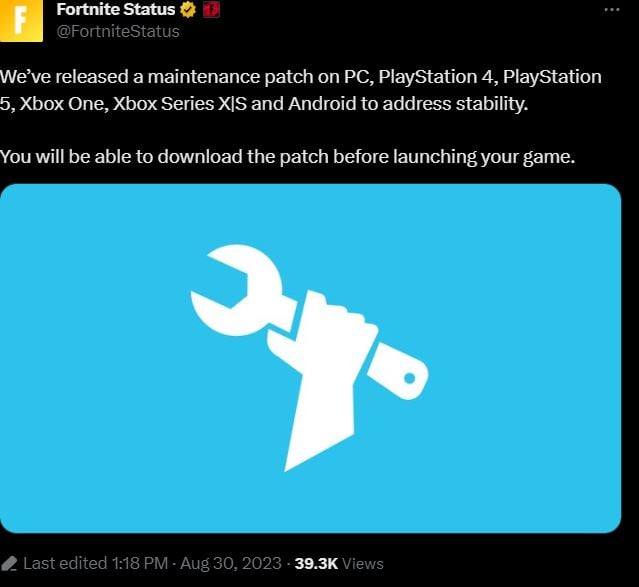 We won't see another downloadable Fortnite update until a week and a half. However, it's likely we'll get a content update on Tuesday, 5th September, that'll include a new item or an item returning from the vault.